This post was originally published on our partner website India.com and modified with updates:
Bollywood actress Priyanka Chopra has proved a grand success in crossing over to mainstream Hollywood. After building an empire in India, the former beauty queen has set her sights on the rest of the world. From music and acting to voice-overs and modeling, the diva is beautifully taking over the globe!
We can't get enough of Chopra, and neither can the world, so we decided to do a round-up of everything she's been up to. Enjoy this PC-overload!
1. Chopra won the People's Choice Award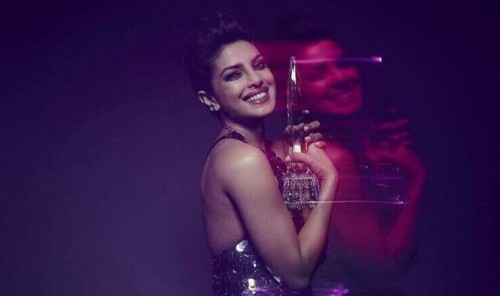 The gorgeous diva is putting those savvy acting skills to good use, winning over the world just like she has won over her South Asian fans. Chopra won Favorite Actress in a New TV Series at the 2016 People's Choice Award for her hit show, "Quantico." She even presented an award with the very sexy John Stamos, who won the Favorite Actor in a New TV Series Award for "Grandfathered."
2. Chopra Presented at the Oscars
Chopra was invited to present an award at the prestigious Oscar Awards this Sunday. She tweeted her excitement earlier this month about being selected as a presenter.
Looking forward @TheAcademy !! This will be an insaaaane night! https://t.co/zaHmPsK6HC

— PRIYANKA (@priyankachopra) February 1, 2016
How stunning did she look in this mermaid dress adorned with 3D flowers from Zuhair Murad's spring 2016 couture collection?! (No need to answer, we already know.)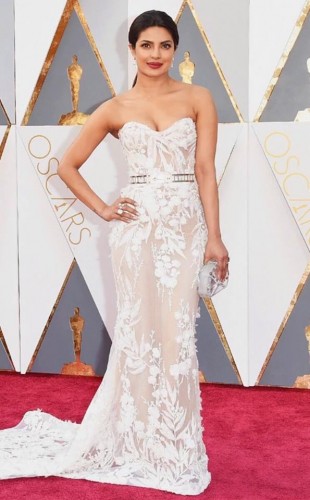 Other new presenters included actresses Olivia Munn, Kerry Washington, and music producer Quincy Jones, just to name a few.
3. Chopra Graced the Cover of Elle!
Chopra continues her reign with her first American magazine cover. She graced the cover of the popular and prestigious Elle Magazine.
A photo posted by Priyanka Chopra (@priyankachopra) on
The star looked hot in a cream colored Valentino outfit, smokey eye makeup, flowing waves of hair, a seductive gleam in her eyes, and of course, flashing her "Daddy's Lil' Girl" tattoo.
4. Chopra in "Baywatch"
Get ready for more "Dostana" status sexy bikini shots because Chopra has officially announced that she will be in the upcoming movie remake of the hit show "Baywatch"! Dwayne Johnson has even posted a fun Instagram video teasing the actress and welcoming her to the team.
It looks like Chopra is trading in her gold bikini for a red one—and we're loving it! She will be playing the villain, and after seeing her work in "Aitraaz" and "Saath Khoon Maaf," we can safely say that PC will rock it!
The film also stars comedian Hannibal Burress, WWE wrestler and actor, Dwayne "The Rock" Johnson, and actor Zac Efron.
5. "Quantico" Returns this March!
Chopra's hit ABC show "Quantico" has fans on edge with a unique mix of action, mystery, and mayhem. Chopra is always posting about her cast mates, with whom she seems to have an easy friendship. The actress has worked long and hard promoting her show all across the country while flying to Montreal to shoot "Quantico" and later flying to India to complete her ongoing Bollywood projects. (When does she sleep?)
The show is set to return for season two, which airs March 6!
6. Say Hello to Ms. Marvel!
Marvel Comics recently created a breakthrough superhero, Ms. Marvel. Kamala Khan, aka Ms. Marvel, is a Muslim, Pakistani-American teenager who suddenly gains superpowers one mysterious night. The shy, awkward, and insecure young girl gains confidence from her new powers. At the same time, Khan is confused and afraid of what to do with these powers. This new comic has broken stereotypical barriers of what a superhero is supposed to be like while empowering its readers. The comic has become an instant favorite and critics are all praise for this book!
The latest news is that the much loved Kamala Khan will be brought to life by Priyanka Chopra! The beauty queen will be voicing the Avengers character in the online game, MARVEL Avengers Academy.
7. The Many Faces of PC
Chopra dons many hats in not just Hollywood but Bollywood as well. The actress has gone from modeling to acting and singing—and now producing as well. With her production company, Purple Pebble Productions, Chopra hopes to make regional movies, such as Marathi and Bhojpuri films. They have just started working on their first Marathi Film, "Ventilator."
She has also launched and supported many of her cousins in the industry to develop "The Other Chopra Clan," as she likes to call her family. It looks like PC building an empire of magnificent proportions.
8. Landlady Chopra?
Chopra's production house teamed up with Endemol Shine India to produce a 14 part bi-weekly mobile series titled, "It's My City." The comedy show features Chopra as a landlady to 4 single, young girls in Mumbai. The story follows these four modern girls as they face what it means to be an independent woman today as well as their individual stories of life, love, friendship and dreams.
It's here @ItsMyCity_ @PurplePebblePic's 1st mobi-series with @nexgtv_mobileTV on Jan 22.Got Newbie producer jittershttps://t.co/7LzEOhM8s9

— PRIYANKA (@priyankachopra) January 21, 2016
Chopra plays herself as an unofficial guardian and a protective friend to the the girls. "It's My City" is a progressive show that you are bound to fall in love with!
9. Not Leaving Bollywood Behind
Though she's extended her reach globally, the actress hasn't forgotten her roots; Chopra's Hollywood aspirations haven't hindered her Bollywood career. After winning the Filmfare award for 'Best Supporting Actress' in the recently released "Bajirao Mastani," Chopra is starring in another powerful role in "Jai Gangajal."
In the Prakash Jha production, Chopra will play a fierce cop. The trailer has already got fans buzzing, and the film is all set to release on March 4.
10. Chopra and Ellie!
Chopra is not just a pretty face—she is a skilled businesswoman and an active supporter of education for children. She even makes sure that the children of her employee's have education available to them. Late last year, the diva became the voice of Ellie, the world's first robotic educational elephant! The life-size educational elephant is a campaign by PETA to educate children about elephants and captivity.
PETA will be taking the elephant on the road for a school tour that will be not just across the United States but all over Europe and even India. Ellie the elephant "talks" to students about her story of being separated from her mother, physical torment in the circus and at last a happy life in the sanctuary after being rescued.