by Nur Kara
I'm basking in the backdrop of Humayun's Tomb in India as I write this. The lawns are laden with picnicking families and budding romances. What a date this would be—definitely beats the movies or some generic restaurant. "Incredible India" is truly defined by sites like this.
Although historically Muslim and Mughal, it is accessible and revered by all: rich, poor, Hindu, Christian, those unlabeled. The Charbagh, rippling water, birds calling overhead, and the firm, twisting roots of the trees all signify the tomb's ripe yet serene story. If one were to sit here and simply be, free of the havoc that lies outside of its gates, one would experience a paradise on Earth. Sadly, this is just a temporary escape.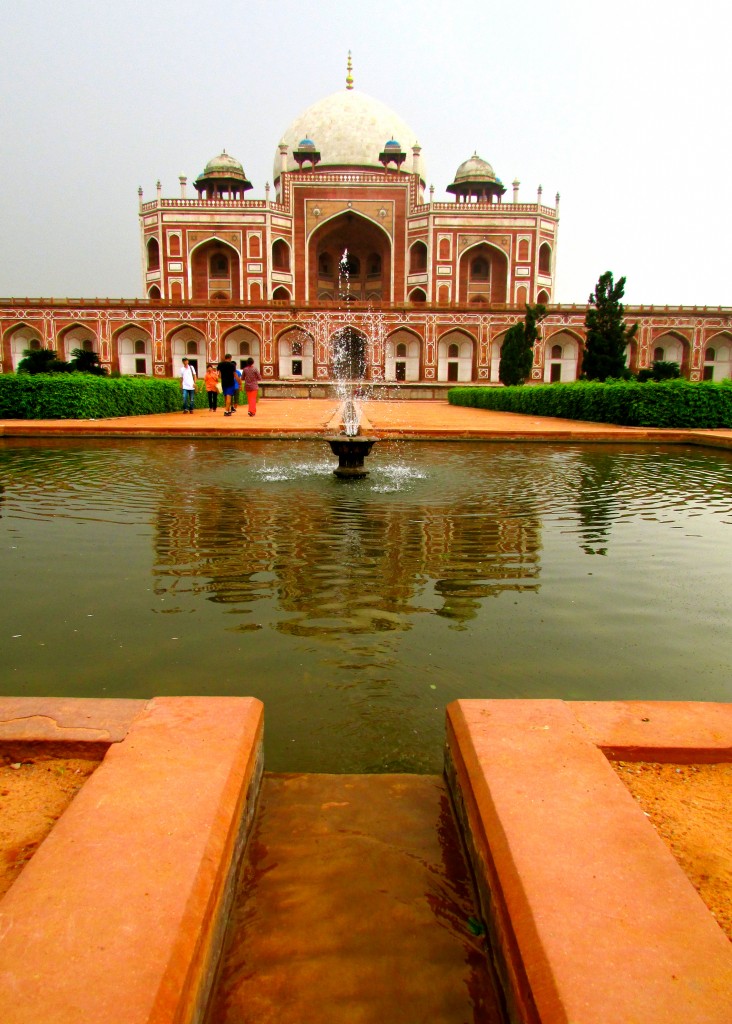 [Charbagh, New Delhi. | Photo Courtesy: Nur Kara]
What am I doing in India?
"You're moving to India? Why?!"—was the primary reaction I received a few months back.

"Why not?"—was the curt response I wanted to give.
Instead, I adopted enough grace to explain my reasons for wanting, and needing a year abroad. Unfortunately, I constantly found myself reassuring others against their judgments that I could cope without the ease and luxuries of the U.S. for some time.
So, what am I doing here? I was fortunate to receive a Fulbright-Nehru research grant, sponsored by the U.S. Department of State and the Institute of International Education, to execute a personal project. I've chosen to study the sociocultural taboos that surround menstruation and prohibit adequate menstrual hygiene management (MHM) for adolescent girls.
Through a survey-based study among girls aged 11-18 in New Delhi schools, I wish to explore the influence personal and familial demographics have upon health-related absenteeism, access to WASH (water, sanitation, and hygiene) facilities, sanitary products, and reproductive health knowledge. My end goal is to draft and teach an interactive, culturally inclusive hygiene curriculum.
You may wonder why this topic is of enough importance for me to uproot my life for a year and why now.
[Photo Source: http://ow.ly/Y5ycA]
Why it is important
From an early age, many urban and rural Indian girls are taught that the vagina is a source of shame and impurity. References to religious scripture render bodily emissions, like menstrual blood, ritually polluting. When on their periods, many girls must observe purdah—literally "curtain" or social exclusion—such as not engaging in prayer, touching others, or eating more than boiled rice. Yet, menstruation is a biological life cycle that affects all adolescent girls on a monthly basis. Sexual education is further ignored and frequently banned in schools because the country's leaders deem it "corrupts the youth and offends Indian values."
Overall, puberty is a hushed problem with grave consequences. About 225 million adolescent girls attend 1.37 million schools spread across India; however, roughly 66 percent have no knowledge of menstruation before reaching puberty (UNESCO, 2012). Only 12 percent of women use sanitary pads, while the rest turn towards ash, newspapers, old fabric, and sand for protection—creating susceptibility to infections and disease (AC Nielsen, 2011). Girls are further crippled by associated psychosocial factors such as fear of leaking and peer bullying.
In October 2014, Prime Minister Narendra Modi launched India's Swachh Bharat Abhiyan campaign that, within the next five years, aims to instill nationwide behavioral and generational change regarding sanitation practices. The campaign also encourages the construction of incinerators in schools for the disposing of soiled napkins. In tandem, the Ministry of Health and Family Welfare launched a program to provide highly subsidized sanitary napkins to 15 million adolescent girls across rural India. Yet in order to truly attain beneficial investments in sanitation infrastructure, these initiatives must go hand in hand with direct interventions that improve women's knowledge and foster more favorable attitudes towards individual health. We already know that improved MHM is required, but I want to know why poor MHM persists.
And why now:
Because who knows when else?
Amid follow-ups like, "Why are you studying THAT?!" and "But isn't Delhi, like, really unsafe for women?," I've been able to discern, which "friends" are worth un-friending. (Just kidding, but it's always a thought to consider). The truth is, improving personal hygiene is an achievable goal. Small steps in this direction would produce sizeable successes, not only for the human rights, dignity, and well-being of adolescent Indian schoolgirls but also for their socioeconomic mobility.
It's been almost five months since my move and still, each day, I oscillate between a multitude of emotions—hate and love and want and need and disgust and fascination, with blessed sprinkles of admiration along the way. I've already experienced an earthquake, have twice painfully bounced off of a chubby (but so cute) Punjabi kid, have stereotypically feared for my life with a dying phone in an Uber at night, have murdered a lizard, have probably contracted irreparable lung damage, and, among many other things, have repeatedly suffered from the fact that what goes in must surely come out. If you know what I mean.
Allow me to share the top 10 observations, some less obvious than others, that I've learned so far:
Just from home to the market and back, the chaos outside is


enough to tire you out. Forget the continuous 12 hours your macho self can do in the U.S. No amount of caffeine, or sometimes even motivation can keep you going and yelling and fighting through these streets.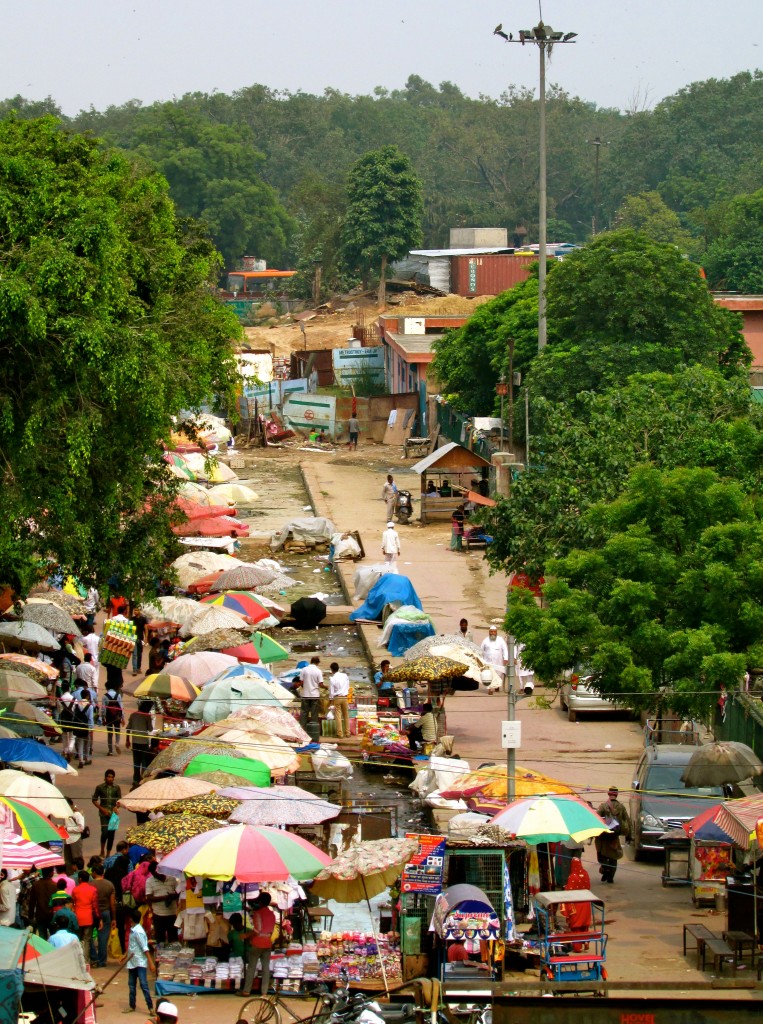 [Chandni Chowk, India. | Photo Courtesy: Nur Kara]
2. When cars honk, it's not because they're telling you to move or are signaling something out of anger. Prolonged honking is the norm and usually just goes to say, "Hey, what's up, I'm here to your left." Hit and runs are also no problem.
3. Time and schedules aren't important. The tailor says tomorrow, he means next week. The maid says she'll be there by 3 p.m., she means maybe not at all.
4. Ladies, looking like you just rolled out of bed and indiscriminately tagging all men "bhaiya/uncle" are sacred powers. Someone recently told me to carefully pick and choose my smiles. Consistently mistaken for a child, my greatest achievements thus far have been adorning a scowl, a tall stature, and an aggressive tone. I can't singlehandedly change a society, but at least, I can challenge it from within.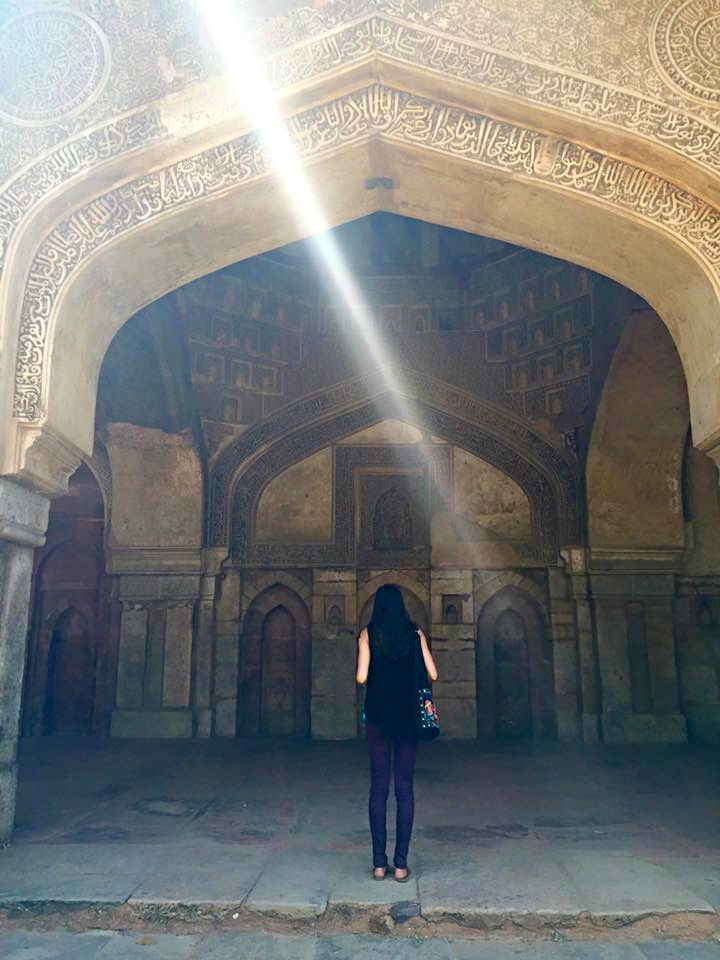 [Lodhi Gardens, New Delhi. | Photo Courtesy: Nur Kara]
5. How many Indians can you fit in/on a _______ is a real thing. Be prepared for suffocation if ______ is an elevator or for unwelcome touching if _______ is the metro. Please do miss the train if you don't make it to the ladies' compartment.
6. Attempting to rationalize reactions will send you down an endless rabbit hole.
"The rate is 50 rupees, but your meter isn't working, so you're demanding 70. How does that make sense? Did I break your meter?"
This was my retaliation in Hindi to a rickshawala one morning. The outcome: I still paid 70 because the argument and his monopoly made me late. Why fight for the 30 cents that he needs more, anyway? Similarly, the consequence of pushing the alarm without an emergency on the metro amounts to either a fine of 1,000 rupees or one year in jail. I think $15 and a year in jail really aren't the same thing, but good luck getting yourself out of that one.
7. India has a solution to all. Got Delhi belly, but still love dairy? Milk flakes. Got an ear infection, but can only find eye drops? Dual usage. Pet lizard you want to get rid of? Cracked eggshells. What?! Exactly.
8. Decaf = tea caf.
9. This country is a mosaic of completely disparate pieces that somehow come together to form one. Each state, each language, each dish, each fabric composes a group of people so unique from another. Where there's corruption, there's also commitment. Where there's peril, there's also peace. Travel and you will see.
10. If you think positively, positivity will find you. Many times, already, I've wanted to shut myself up in the house and never see the smog of day, so that I don't have to forge the tough persona that often gets trampled on anyway. But just when I feel like giving up, I happen upon a sincere exchange with the local fruitwala or witness the pained but playful plight of a street child that inspires me to keep on keeping on. Love and light do exist.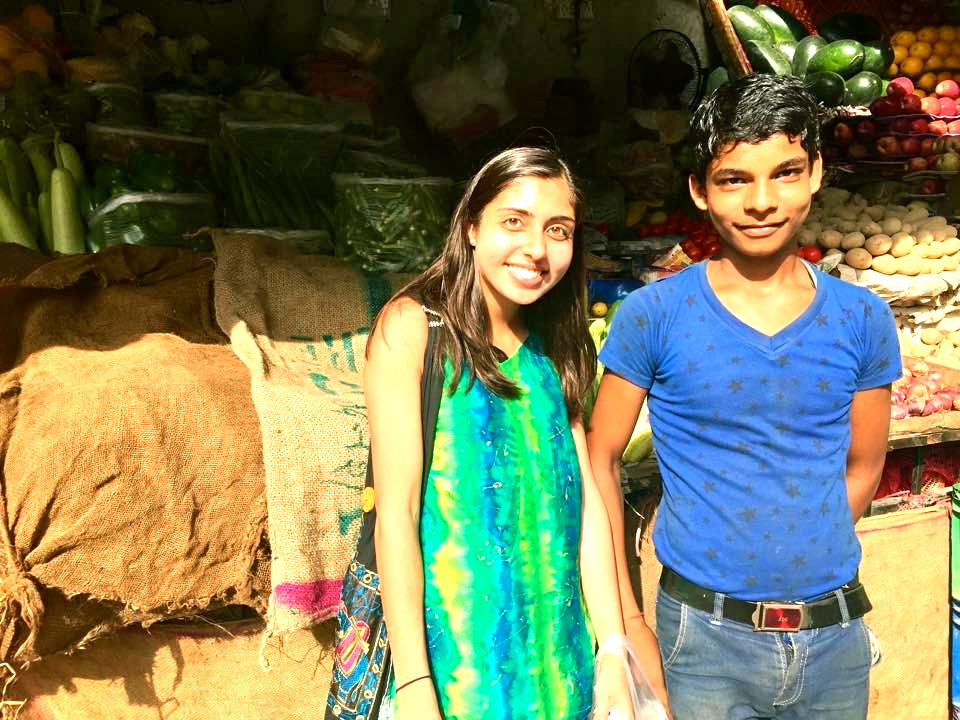 [Dilip, my fruitwala friend.| Photo Courtesy: Nur Kara]
Essential graffiti I whizzed past in Mumbai:
"Remember, the world is yours.
*Terms and conditions apply."

There has never been a truer and more relatable statement. I'm looking forward to what's next in store.
---
Nur Kara is a medley of Indian ancestry and East African heritage though also carry the labels of "female," "Ismaili Muslim," and "first-generation American." Being part of refugee history and having lived through these various lenses inspires her to similarly share in others' stories. A self-coined "skeptiste," she questions the uncommonly questioned.