by Rabia Toor
'Tis the season! Everyone is getting together, buying presents, cooking meals, and getting up close and personal. It can be a stressful time for most people, however, those suffering from anxiety, depression, or any other form of mental illness have a particularly difficult challenge to face.
For people suffering from mental illness, the holiday season can exacerbate symptoms. During this time of year, they're bombarded with commercials of family members getting together and everyone just seems so…happy. When they constantly see this paradox of the outside world being jolly, happy, and festive, but they feel alone, sad, and apathetic inside, it can truly make getting through the holiday season incredibly tough. But there are certainly ways to create a better environment where you don't just survive, but you flourish into the New Year.
Here are 10 mindfulness tips for managing mental health during the holiday season:
1. Take some time for yourself
This one is a biggie. And it's the first one on the list because it is SO important! Although it's not healthy to be in complete isolation, remember that if you need a break, take one. Whether it's going out for a walk for 20 minutes or watching the latest episode of "Fuller House" (or insert your favorite show) on Netflix, make sure to take some time to regroup. Focus on your breathing and try to relax.
2. Strive for fun and not perfection
Remember that the holidays rarely turn out as planned. There are always unexpected bumps in the road. But the best ways to deal with them are simply to smile and enjoy yourself. Anticipate stress, but don't let it take over your entire being. The holidays are about enjoying the best things in life and being grateful for what you have. In the grand scheme of things, having a perfect pecan pie for the table is trivial.
3. Realize that there are some things that are not in your control
The long lines at the mall, someone else grabbing the last ugly Christmas sweater, and even the blizzard that hit right before you were leaving work. These are things not in your control. During this time of year, added stress to your daily routine can certainly exacerbate symptoms of mental illness. But make sure to realize that these are things that are not happening TO YOU only. These are out of your control and the best way to deal with them is to take a deep breath, pace yourself, and move forward.
4. Remember that you CAN control how you react to situations
Your Aunty may say that you've gained weight over the last year, and your Uncle may ask you what your plans are after graduating, and your cousins may certainly ask you about the anti-depressants on your table. How you react to these situations can truly make a huge difference. Remember to recognize that you control how you react. Try to think about how your words may come across before saying them and try to come up with positive outcomes.
5. Recognize that friends and family usually have your best interests at heart
Family and friends will, at one point, see you during this holiday season. And sometimes, they may not understand what you are dealing with. If you would like to further explain your diagnosis or general mental health, keep in mind that they may ask more personal questions, so be prepared. This is a time when you can try to erase the stigma and shame associated with mental illness, teach them more about the symptoms and diseases, and at the same time, teach them a little bit more about yourself.
6. Say 'NO' to alcohol and drugs
I know, I know. Everything seems to be spiked during this time of year. There's rum cake, Hot Toddies, even alcoholic hot cocoa! Although it may be difficult to stay away from alcohol and alcoholic drinks, please remember that the effects of intoxication can exacerbate symptoms of anxiety and depression. The same goes for drugs. Do not use them as a way to escape the party or to drown out your symptoms. They simply do not help.
7. Keep the same routine you had before the holidays 
Whether it was writing in your journal for 10 minutes a day, or sleeping in on Saturdays, or even showering in the morning versus at night, keep the same routine to the best of your abilities. And make sure to keep going to your therapist, if they are available, and taking your medications. It may not seem like you have enough time, but the holidays don't make a mental illness disappear. Follow up with your therapist as best as you can and be compliant with any medications you may be taking. Keeping the same routine will add structure to your holiday season when everything can seem chaotic and 'out of your control.'
8. Make sure to get enough sleep
The days are getting shorter and shorter and it seems like it's getting darker earlier every day. Between wrapping presents and hosting parties, it may seem like you don't have enough time to get the rest you need. But make this a priority. A good night's sleep creates better functionality during the day; it helps with your concentration and definitely puts you in a better mood.
9. Get involved in your community
'Tis the season to give back! A perfect way is to reach out and volunteer at your local place of worship, community NGOs, and neighborhood centers. Taking the time to be part of the community gives you a sense of togetherness and it certainly makes you feel good for giving back. It may also help you regain spirituality and reconnect with your faith. Reach out to homeless shelters, soup kitchens, or food banks and get to know your neighbors in the process.
10. Count your blessings and look forward to the future
Remember to be thankful for what you have in your life. If you are having a particularly stressful day, think about the things you are truly grateful for. Taking the time to reflect on the blessings you have can eliminate feelings of anxiety and stress. One blessing, in particular, is being able to see a new year. A new year is upon us and being the best version of yourself is something you can truly look forward to.
Happy Holidays to all, and to all peace and mindfulness!
---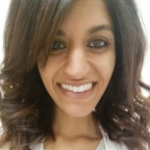 Dr. Rabia Toor is a recent graduate of Saba University School of Medicine. Her passion for social work and providing care motivated her to pursue an MD. After suffering in silence for many years, she believed it was time to speak out and be an advocate for the education and treatment of mental illnesses. Her first foray into the arts is a documentary called "Veil of Silence," a film on the stigma of mental illness in the Muslim community. She hopes to continue her work in the future as a family physician specializing in psychiatric care. Between studying mindlessly for hours on end and being a social advocate, she loves eating Mexican food, crocheting, playing with her kitten and shamelessly discussing her Pinterest fails.