by Salma L
The chatter about the new Dolce and Gabbana abaya collection is largely split between rave and daze.
Brown Girl Magazine's editor-at-large Atiya Hasan eloquently described the mixed feelings about D&G's new line in an interview with India.com:
"I can't deny that it is exciting to see modest Islamic clothing in the mainstream being presented by a well-known high-end designer, but it also makes me question what this means regarding the predominant social narrative about Muslim women. Is it all of a sudden trendy, and not oppressive, to dress like us? The fact of the matter is, that high-end Muslim fashion designers have existed for as long as Muslims have existed. As an internationally known brand, Dolce & Gabanna has to be careful not to co-opt the stories of Muslim women and their fashion choices for the sake of capitalizing on it."
So, instead of sharing my opinion on a huge fashion house that's appropriating religious garb, I would like to encourage you to look at less mainstream designers who have completely revolutionized the abaya in function and style in the past 10-15 years.
Here it is, 10 abaya companies you should spend your money on.
Neelab Safi is the founder and creative director of NISAA, which launched in 2011. Her designs are influenced by Afghan embroidery and attention to detail. The embroidered patches from her "Ethnic" collection are reminiscent of traditional wear while still flaunting religious garb. The rich brown and simple tie add elegance giving it a "day to night" ease of functionality.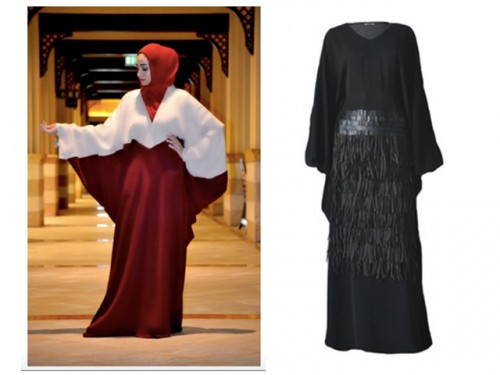 Abaya Addict was founded by Dr. Deanna Khalil. Yes, that's right. This badass woman not only finished her degree in optometry in Chicago but also launched her own Islamic fashion global empire. Her beautiful designs are not only on trend but completely unique. The fringe abaya takes a fashion MUST, and makes it completely wearable on an abaya. Color blocking marsala and rose quartz, fashionable Pantone colors to rock in 2016…do I even have to say anymore?
Annah Hariri converted to Islam four years ago. After converting she did not want to sacrifice her chic fashion sense for modesty, and she began designing her own clothes. Be gone undershirt hassle! Anyone who knows me, knows I am a sucker for gold embellishment on lavish black. Annah Hariri does just that in her collection. Complimenting rich lace embellishment with polka-dot star-like additions to chiffon. My absolute favorite is the hand-embroidered abaya in a grid design. Anyone who has seen grid design clothing— literally everywhere—knows that this is luxe. *Adds to cart for Eid 2016.*
According to the website, "the Abaya Collection was born out of the dream to be individual without compromising on codes of modesty." It is beautifully adorned for weddings and evening locations. If you ever thought "nah-uhhh" to an abaya for your wedding, this line is sure to change that to a "duhhh!"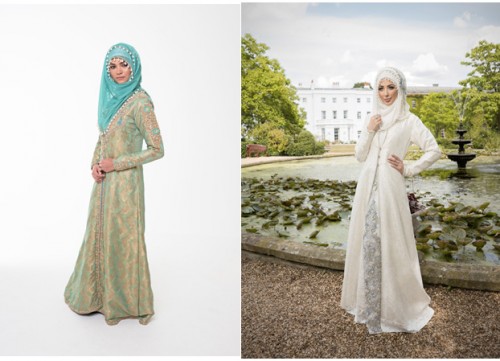 Biah has to be one of my favorite finds. The collection is simple but elegant. Biah pairs classic colors like black, red and blue — with lace, appliques, and patterned trims. Black and white abayas are beautifully paired with a pop of colored lipstick or a statement shoe. Basically, it's a staple. Fashion alert: Pantone Spring 2016 spots snorkel blue and I think you spot it too.
6. Abaya Buth
Abaya Buth takes classic abaya draping and open fittings to a whole new level. This simple black draped abaya comes in more styles with piping, beads and buttons. Completely regal. This open abaya jacket is the versatile option for the girl who needs extra cover or wants to pair it with a jumpsuit, now that's functionality.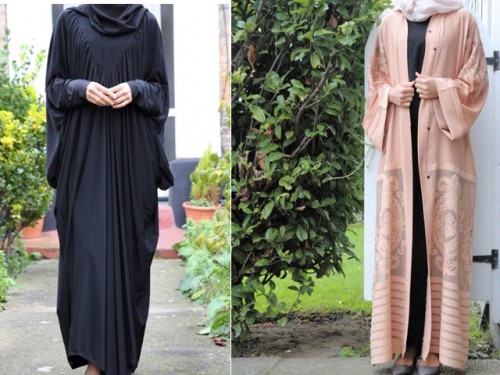 'New York State of Mind' is the only way to describe Amirah Couture. The designer is just as ambitious in person as she forges new outlets for Abayas and Muslim fashion. Her website boasts "every purchase sends an impoverished girl to school," which is not only impressive but also philanthropic. Amirah's Black Ice collection is what you need for winter: velvet warmth and frosting (and we're not just talking about cake).
The Aab Contemporary Modest Wear collection is "set out to create garments that take into account, simplicity, style and comfort desired by Muslim women who find themselves playing multiple roles in today's society." Aab aims to create versatile clothing for the girl who chooses the abaya for everyday or the girl who wants to just wear it to religious events. The Aab collection not only sports a hoodie dress in the most beautiful coffee color, but heavy embroidery on babydoll style abayas which flaunts the most gorgeous pleats a girl could ask for.
East Essence, according to the website, was founded with the idea of serving the community. They provide affordable modest clothing at the lowest margins possible as providing quality modest clothing without causing a hole in the pocket is our prime goal. And I must say, East Essence does just this, offering its client's custom tailoring on almost every garment, in a variety of colors and styles. It also promotes scholarship, religious garment donations and hosts a giving-back initiative.
Besides wanting to support a company with so much initiatives, are we not swooning over this maroon cape abaya? Nothing screams winter chic like little red riding hood inspiration.
Inayah "strives to maintain a balance between current trends, comfort and practicality." Before you judge the Inayah collection by the two abayas I have pictured below, be warned their website is addictive. The collection sports the most casual denim abaya (which by the way does not look tacky at all, but effortless and chic), to the most exquisite draping, structures and heavily beaded gowns.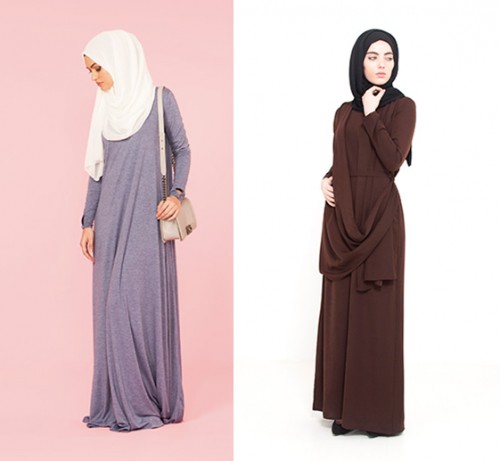 And these ten only scratch the surface of abaya collections. Most of these companies not only allow you to purchase abayas that are on-trend, complete with Pantone Colors of the Year, but take into account the season's head-turning patterns and accessories like "grid" and "fringe."
These designers are based largely in the West, but know there are designers like Dian Pelangi and Aere that have gorgeous, well made, innovative designs in the East as well— including the already prominent Arab designers in the U.A.E.
My point is, we don't need validation from western fashion designers who have largely ignored our demographic until now. Don't you think it's just a bit convenient that after Fortune.com released $266 billion as the figure spent by Muslims in the fashion industry that suddenly big companies are advocating for us?
While I support large design houses making couture fashion modest friendly, and dream of a day the "next top model" comes from our community; I don't support traditional clothing being marketed as couture by designers who have failed to recognize our demographic in the past. The market only overshadows women who have studied, worked hard to cater to a largely-ignored audience and have a true understanding of modest dress struggles.
Take a step back, we are already running our own industry.
---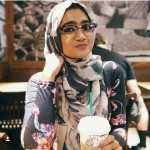 Salma is a double major in the Fine Arts and Behavioral Neuroscience. She has the spirit of an artist, the heart of a humanitarian and is a fashion enthusiast. Currently, she's standing in a cafe somewhere waiting on coffee to get over a headache.