Blending my two favorite cuisines: soulful Indian flavors with tasty vegetarian fast food; is a match made in heaven. As a spicy-loving girl myself, I don't even need that Sriracha hot sauce keychain when eating in India! Below is proof that Indian fast food is the best fast food in the world, and arguably a better "bae" than "bae" himself.
So if your summer plans include a trip to India, make sure you check out these exclusive menu items from these well-known franchises.
Warning: If you have the munchies, do not scroll down to the irresistible pictures below. You have been warned. 
1. McDonald's McSpicy Paneer Burger
As a girl who was raised in the Southern state of North Carolina, I cannot think of anything more innovative than batter-fried cheese in between two buns. I'm also a total condiment girl; the tandoori mayo oozing from the burger just makes me melt.
2. Taco Bell's Kathitto
A fajita veggie filling and Indian-inspired Taco Bell sauces all within a flaky paratha…I think I have met the one! There are even other filling options instead of fajita veggies: chipotle veggies or fajita grilled chicken.
 3. Subway's Aloo Patty Sub
Even better than fried cheese is fried potato. Adding fried potato to a veggie sub is even more exciting than going on a date with that hipster guy you always had a thing for.
4. Starbucks' Alphonso Mango Frappuccino
What's not to love about sweet, juicy mangoes? They're almost a part of the Indian DNA. Starbucks in India went a step further and whipped them together with milk (or really, coconut milk in my case) and my absolutely necessary Frappuccino Instagram picture has really stepped up its game. Time to spend precious quality time practicing that sip face.
5. Starbucks' Tandoori Paneer Sandwich
Nothing goes better with a frap than a hearty sandwich; meet this tandoori-marinated paneer and peppers between two slices of artisan bread sandwich. Um, yum.
6. Dominos' Butterscotch Mousse Cake
Cake layers alternating with creamy chocolate and butterscotch mousse makes for one smooth operator. Cake, cake, cake…I'll put my name on this.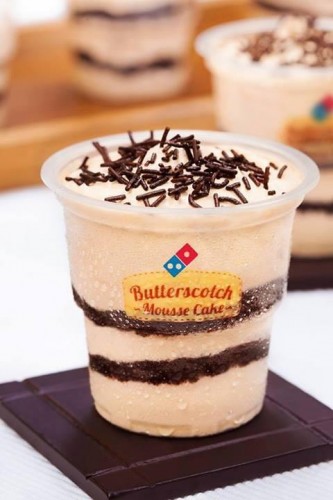 7. Papa Johns' Slice of Mumbai
This is one saucy and hot piece of pizza. With masala sauce, onions, green peppers, green chillies, tomatoes, mozzarella and a "special sprinkle," who wouldn't want to spend a night of masti with Mr. Mumbai…or should I say, Mr. Mum-bae?
8. Dunkin Donuts' Naughty Lucy Veg Burger
Lucy has been quite the time-traveller. There was the Lucy who I loved, and Lucy who was in the sky with diamonds…who I loved even more (the song that is). But with a name like "Naughty Lucy," you've got me hooked. It's a sourdough bagel veggie burger with a cheese-filled patty, hints of raw green mango flavor, chipotle sauce, and fresh veggies. As Dunkin Donuts India states on their website: "(It) does whatever it can to make you feel loved…you need extra comforting."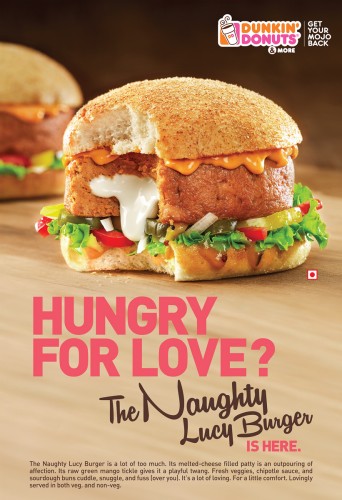 9. Pizza Hut's Veg Baked Pasta
So this is the one dish out of all of the ones listed that I have actually tried, and can completely attest to. It's my first love when it comes to Indian fast food. Therefore, it's spicy tomato sauce, mozzarella cheese, onion, green peppers and parsley will always have my heart…and my fork to entertain.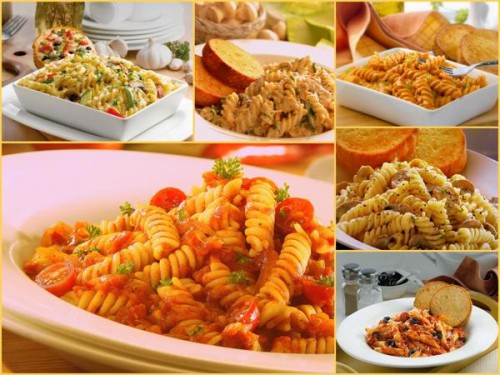 10. Chili's Jalapeno Paneer Quesadillas:
Basically, it's your standard quesadilla packed with pickled onions, jalapenos, chipotle ranch and jack cheese. But what really makes it the one you want to take home…in a take-out box? It has fajita-marinated paneer. What can be better than Indi-Mex while watching Netflix?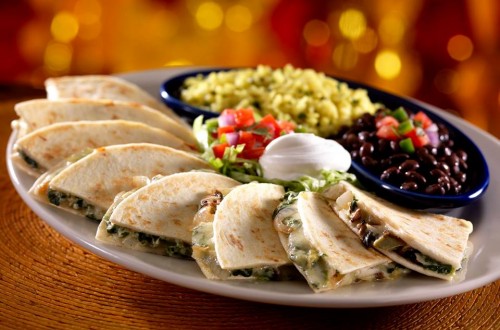 ---
Recently accepted into Boston University's MS Journalism program, Karishma B. Desai freelances for the award-winning IndyWeek and was a former intern for UNC-TV (North Carolina's PBS Affiliate). When she's not writing articles at Starbucks, you can find her videotaping a new adventure for YouTube or interviewing inspirational people for a documentary. She is a city girl who is working towards her dreams of becoming a TV reporter focusing on health policy.