As someone who is the furthest thing from an athlete and knows almost nothing about sports, the 2016 Olympics in Rio de Janeiro, Brazil had me acting like I have been the biggest sports fan all my life.
Seriously, I've never cared this much about sports at all until now. I'm actually surprised by my own enthusiasm for these games and my growing interest and appreciation for all the different sporting events I have been able to catch. But the best part for me has been witnessing the coming together of over 200 countries to partake in friendly rivalry and have one giant celebration of athletics as united citizens of planet Earth. Whether we watched live in Rio or at home on our TVs, it's been a lot of fun for all to experience.
Multicultural brown girl that I am, I just couldn't choose one country to root for over another but I had a great time screaming my head off for the athletes that grabbed my attention and sucked me into their world. So here is a list of some my favorite Olympians this summer. Starting off with the record-breaking, history-making brown girls who killed it in their sports and repped us so well …
1. Dipa Karmakar (Gymnastics, India)
[Photo Source: Olympic.org]
The Olympics wouldn't be what it is without the highly-anticipated gymnastics portion and this year did not disappoint. Dipa Karmakar became the first Indian gymnast to compete in the Olympics and made it to the finals of the women's vault where she placed 4th, just missing the bronze medal by a hair. She even chose to perform what is known as the "death vault" which very few dare to attempt. Homegirl did not come to play!
On top of that, her journey to the games was not an easy one. There were many obstacles for her to overcome including having flat feet which isn't desirable for gymnasts, training in poorly equipped facilities, and the mere fact that India is a country where gymnastics is not a popular sport and receives very little support and funding from the government. But in spite of it all, she shone brightly like the star she is. Think of all the little brown girls who will now be inspired to become gymnasts like her! Something that they probably thought was never possible. Well, now it sure is! Dipa is the perfect example of how you don't need any medals to be a true winner!
2. Sakshi Malik (Wrestling, India)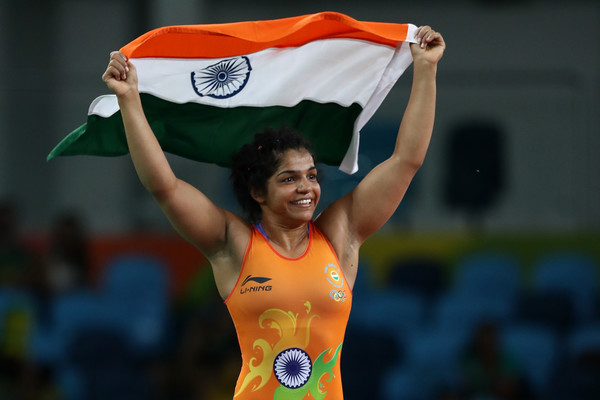 [Photo Source: Zimbio]
Female Indian wrestler. Three words that are normally not used together. But that's exactly what Sakshi Malik is and a bronze medal-winning one at that! To be precise, she won India's first medal at the Rio Olympics! I don't understand a thing about wrestling so I couldn't explain it if I tried but what I took away from Sakshi's achievement is the story of a girl who believed in herself, broke so many boundaries in a place where female wrestling isn't encouraged, and earned her place in Olympic history. Brown girls can do anything!
The best part might have been her mom's reaction to her win though!
SO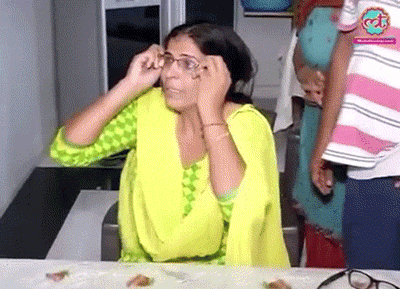 via Buzzfeed
CUTE!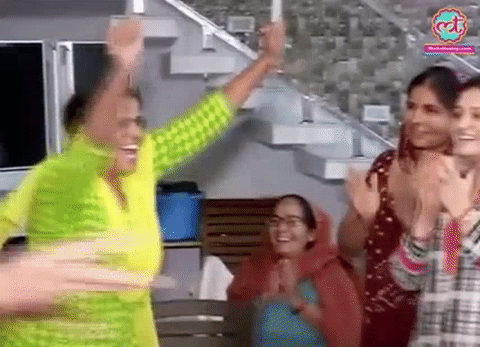 via Buzzfeed
This alone deserves a medal!
3. P.V. Sindhu (Badminton, India)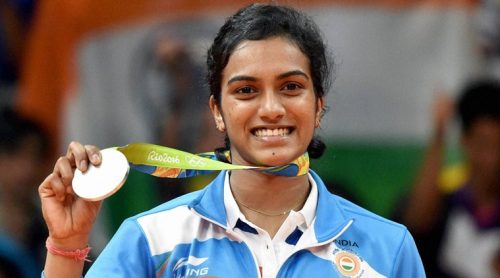 [Photo Source: India Express]
Brown excellence didn't end there! Badminton player P.V. Sindhu became the first Indian woman to win a silver Olympic medal, bringing even more pride and joy to India! Now I've played badminton before in high school gym class and, although it may not look it at first, this game can be extremely intense. I can't even imagine what Olympic-level badminton must be like but I'm sure it must be a thousand times more pressuring. By the sound of it, she did not have an easy time learning to channel her energy effectively to get to where she is, but when the time came, her spirited performances propelled her to victory.
It is so wonderful to see Indian women like her make their mark at this year's Games and pave the way for many more to follow. Many years down the line, Dipa, Sakshi and PV Sindhu will surely be known as the giants upon whose shoulders future Indian athletes stand.
4. The Final Five (Gymnastics, USA)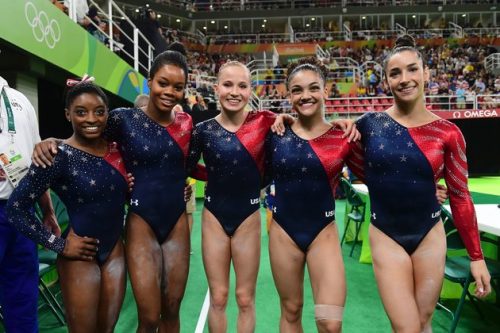 [Photo Source: Huffington Post]
I do love me some gymnastics so I just have to talk about this some more and how amazing the members of the American team were. I could list each one individually but there is no way I, nor anyone else, could break up the Final Five: Aly Raisman, Gabrielle Douglas, Simone Biles, Laurie Hernandez, and Madison Kocian. They were a team from beginning to end and really embodied the meaning of togetherness.
This group of magnificent, insanely talented young women brought their best to Rio and came out on top, winning the gold medal in the team final and winning nine medals overall, breaking the record of eight total medals won in a single Games. These ladies really brought so much happiness to everyone who watched their outstanding performances. And look how beautifully diverse this group is! They represent the crème de la crème of America in the best way and I couldn't be prouder to support them. #ProudMamaWhoIsNotTheirActualMama
5. Katie Ledecky (Swimming, USA)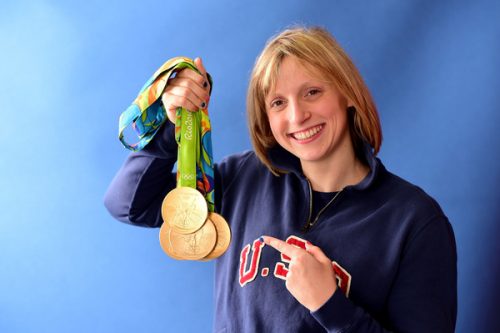 [Photo Source: Zimbio]
Katie Ledecky is an actual mermaid. Now this girl can swim! She was probably swimming inside her mother's belly since before she was born! At only 19, she has won five medals — four gold, one silver — in her second Olympic Games. And in one of her individual freestyles, she set a new world record, coming in 11 seconds faster than the silver medalist! 11 SECONDS! DANG GIRL! Watching that race and seeing that gap between her and her competitors was incredible! Major props to her because I was in a pool last week struggling to barely float. I am in pure awe of all she has accomplished. Pure awe.
6. Kerri Walsh Jennings (Beach Volleyball, USA)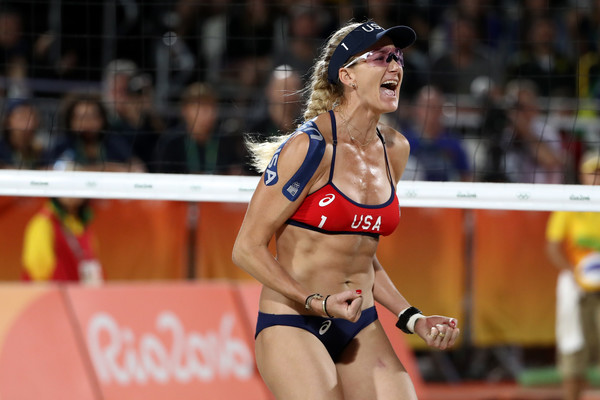 [Photo Source: Zimbio]

Let it be known that beach volleyball has definitely become my NEW FAVORITE SPORT EVER! And that is all thanks to the Kerri Walsh Jennings and her amazing skills! She is, without a doubt, a warrior in every sense of the word and has gained a new lifelong fan in me.
An Olympic veteran and three-time gold medalist, she plays the sport with so much power and finesse that keeps me glued to the screen, and although she unfortunately lost out on the chance to play for the gold medal again with her amazing partner April Ross, the American team's comeback to win the bronze and her incredible plays blew me away. She is now the most decorated beach volleyball athlete in history. And did I mention that she played with a recovering dislocated shoulder? Or that she is a proud mother of three beautiful children which is the toughest job of all? WARRIOR!!! Also, how awesome is her ponytail braid? Love it!
7. Troy Doris (Track & Field, Guyana)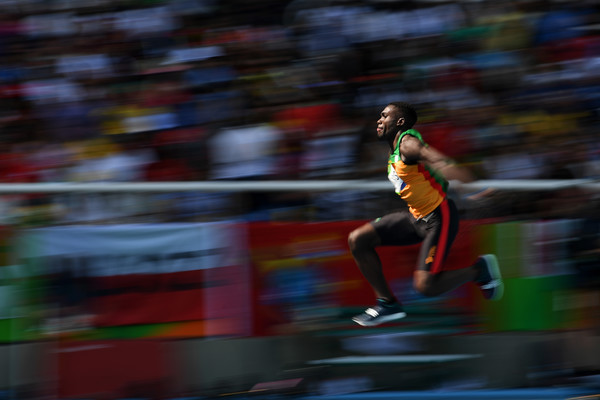 [Photo Source: Zimbio]
I don't know much about long jumping but what I do know is that any time someone from my home country gets far in anything they do, as is the case here, I will proudly be cheering right along with every single Guyanese everywhere. Troy Doris represented Guyana so well and made it to the finals as the first Guyanese male athlete to qualify for an Olympic final. He finished 7th in the Men's Final Triple Jump and while there's no medal with his ranking, this is an amazing achievement that makes all of Guyana's people and the wider Caribbean community so proud. Yaaaas Troy! Do it for the homeland!
8. Elaine Thompson (Track & Field, Jamaica)
[Photo Source: Telemundo]
Stand up Jamaicaaaaaa! The Caribbean was on fiyah this year! Elaine Thompson earned the right to call herself the fastest woman in the world. The look on her face each time she won, the happiness and ecstasy, was so infectious! I am getting emotional just thinking about it. She ran 100 meters in 10.71 seconds. Meanwhile it takes me 10 seconds to take one solid breath sometimes. I just love this girl! She brings two more gold medals back to Jamaica with her and a whole lot of pride to her nation. Elaine is also one of numerous black women who slayed the Olympics this year with their #BlackGirlMagic. Track and field is where they often excel in every Games and this time was no different. They were on point, better than ever and owned their greatness.
9. Usain Bolt (Track & Field, Jamaica)
[Photo Source: TIME]
First of all, is this man even real? How does he run like that?! Making history as the first athlete to win three gold medals for running in three consecutive Olympics, he makes running look like a pleasant jog in the park in comparison to the other runners. It's not that the others are bad, they're actually very good … it's just that Bolt is the best. He is such an inspirational figure in the Caribbean that even my grandpa in Guyana hopped out of bed just to see his race and then, with a smile on his face, proudly announced to my grandmother that 'Bolt won" after the race was over. The only thing better than being able to witness Bolt's glory is being able to share that moment with even family back home. Winning gold medals and unifying families across the world is all in a day's work for Usain Bolt.
10. Michael Phelps (Swimming, USA)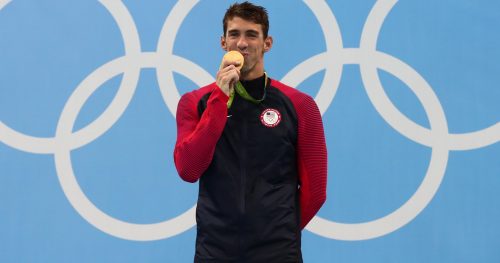 [Photo Source: USA Today]
Would it even be the Olympics without the greatest Olympian to ever exist? With 28 medals around his neck — 23 of which are gold — he is the most decorated Olympian of all time. OF. ALL. TIME. I have no words … I mean what more is there to say apart from the fact that he is the greatest? 28 medals! It's just insane! Kudos to this man for every single one of his achievements. It just goes to show, when you really want something, all you have to do is work hard and go after it just like he did. He wanted to come back to the Games, push himself and win again, and that's exactly what happened. He walks away with five golds and 1 silver from Rio. Not bad at all. But let's be real. As great as his accomplishments were, his son Boomer definitely stole the show!
Honorable Mention, Leslie Jones (Slay All Day, USA)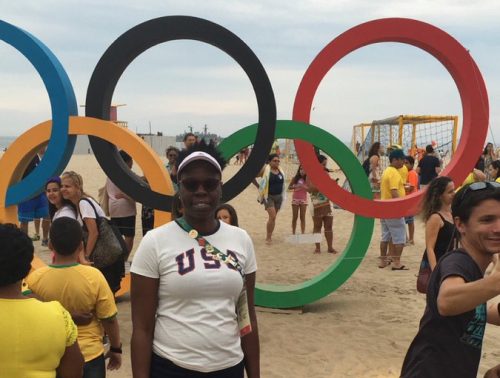 [Photo Source: Twitter]
I have to say, my ongoing enthusiasm for the Olympics was heavily influenced by Leslie Jones and her unbridled joy at watching these Games as she shared her reactions and commentary on her social media accounts. It was so exciting to see that just being true to herself — in addition to having endless optimism and a great sense of fun — got her an invite to Rio to experience the Olympics in person. Her love for her country and commitment to supporting every American athlete was nothing short of amazing, and her passion was contagious. I definitely would not be as pumped as I am about sports now if she wasn't leading by example. So I would be remiss if I didn't put her somewhere on my list because she was a big a part in this year's Olympics just as much as all the athletes were and it was a beautiful thing to watch. You go, Leslie Jones, you go!
There are so many more athletes I can name and gush over, I really could go on. But these few, in particular, kept me engaged during the Olympics and proved to everyone just why they have been given the honor of being called Olympians. I'm even inspired to be more active and keep in shape (we'll see how that goes) and I definitely have a greater appreciation and respect for athletics. And now all I have left to say is, BRING ON TOKYO 2020!!!
---
Miranda Deebrah is an Indo-Guyanese writer and storyteller based in New York. Proud of her roots and heritage, she is an advocate for South Asian voices not yet heard and the stories not yet told. She is passionate about the arts and their ability to create change in the world and hopes to make her own contributions through her work. Her interests include traveling, reading biographies, spending evenings at the theater, reenacting choreography from Lady Gaga's music videos, taking flying trapeze lessons, and making all kinds of magic happen.